Welcome to Table 1 Espresso! One of Newcastle's favourite cafes. 
We are a modern cafe providing delicious Campos coffee and signature dishes that will make you want to come back again. 
With a large menu of fresh delicious meals, a mix of seasonal specials, and refreshing drinks, we have created a selection to tickle your taste buds.
The owner behind Table 1 Espresso, George has been surrounded by the hospitality industry his whole life. He has international experience working at world-renowned venues, and knows what goes into excellent service. 
His team are friendly and talented and ready to help. Table 1 Espresso invites you to come down to Warners Bay or Speers Point Park and share our unique food and coffee, service with a smile and of course, our passion for perfection. 
We are located on the beautiful esplanade at Warners Bay and in Speers Point Park with breathtaking lake views.
Free Parking

Business Meetings Welcome 

Beautiful Appointed Amenities 

Indoor and Alfresco Dining 

Licensed Cafe
Trading Hours: 
Open 7 days a week 
Warners Bay
450 The Esplanade
Warners Bay
6:30 am – 3:00 pm
Speers Point
15 Park Rd
Speers Point Park
8:00am – 3:00 pm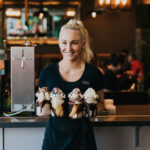 "I could not have been more impressed by the friendly staff, excellent service and fantastic food. I was keen to check out Table 1 from their Facebook page popping up in my feed, and they didn't disappoint!